Zhang Wen(

文章)
Dramas
Snow Leopard /雪豹 (2010) – Zhou Weiguo
Dwelling Narrowness / 蜗居(2009)
Love at Sun Moon Lake / 爱在日月谭 (2009)
Prominent Family / 望族 (2009)
An Liu / 暗流 (2008) – Duan Yifei
Xiong Di Men / 兄弟门 (2007) – Hua Xiaowen
Struggle (2007) – Xiang Nan
Qing Chun Zhi Ge (青春之歌) as Lin Dao Feng (2007)
Jin Yi Wei (锦衣卫) as Zhu You Xiao (2007)
Yu Qing Chun You Guan De Ri Zi / 与青春有关的日子 (2006) – Zhuo Yue
Ni Zai Wei Xiao Wo Que Ku Le / 你在微笑我却哭了 (2004) – Chen Chen
Movies
Badges of Fury / 不二神探 (2013)
Journey to the West: Conquering the Demons / 西游降魔篇 (2013) (Review )
Beyond the Bounds / 越位者 (2013)
The Guillotines / 血滴子(2012)
Truth Or Dare (2012)
Qin Jia Guo Nian / In-Laws New Year (2012)
Love is Not Blind / 失恋33天 (2011)
The Sorcerer and the White Snake / 白蛇传说(2011)
Beginning Of The Great Revival (2011)
The Law Of Attraction / 万有引力 (2011)
Mr. & Mrs. Incredible / 神奇侠侣 (2011)
After graduating from China's Central Academy of Drama in 2006, he starred in many popular TV dramas including "You Are Smiling, While I am Weeping," "Bloom of Youth" and "The Song of Youth."
During 2007 and 2008, Wen became well-known for his roles as Xiang Nan in hit TV drama "Struggle" and as Xiao Bei in "Dwelling Narrowness."
His upcoming TV works "The National Anthem" and "Snow Leopard" are highly anticipated by audiences and Wen's fans alike.
In recent years, Wen has started to focus on his film career. In 2008, he starred in director Li Dawei's comedy "A Tale of Two Donkeys" and received wide acclaim from college students.
"Ocean Heaven" is his fifth film in which he plays an autistic son and stars alongside Jet Li, who plays Wen's father.
Wen married Chinese actress Ma Yili, who is eight years his senior, and has a two-year-old daughter.
Wen married Chinese actress Ma Yili, who is eight years older, and they have had a two-year-old daughter.

Wen Zhang was also quoted saying "No, I had no idea what autism was before this film," the 26-year-old actor said. "Initially, I thought autism was all about not talking much," said Wen. "Director Xue Xiaolu didn't like my reaction when I first met her. She has volunteered for many, many years at an autism center. She required me to visit autistic children. So I did. I was plain shocked when I saw them."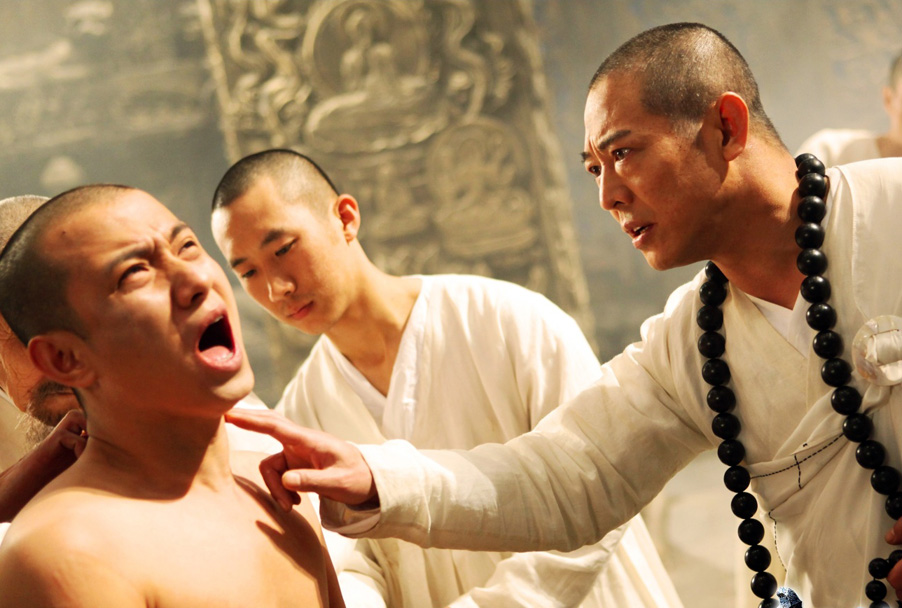 In
Ocean Heaven
, there are many scenes in which Dafu, Wen's character, unconsciously raises his shaky left hand. "Each autism sufferer has some symptoms that show in his or her behaviors. I was thinking I needed to mimic a typical gesture," said Wen, who eventually picked hand-trembling after watching many documentaries about autism. "That is a beautiful gesture," he said. "I met many parents of autistic children who came up and said to me, 'Wen Zhang, are you autistic as well?'" Wen took that as a compliment.
He goes on to say "You need to be a good man before you are a good father." Wen, who became a father in 2008, had this to say about defining a good father: "A good father is a role model for his children. He must have something worthy of respect."