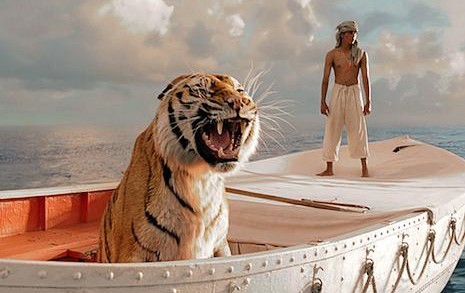 Life of Pi
I just wanted to take a little bit to post about the movie I just saw,
Life of Pi
. It is based on the book written by Yann Martel (which I am saddened to admit, I had not read, nor heard of it before the film was released). The story line is about Pi, a teenage boy from India. His father owns a zoo and ends up needing to sell the animals and move to try to find a better life, as they are poor and just have run out of options in India. So, Pi, his brother, and his parents set off for Canada.
They are placed on the setting of a ship, with the animals that Pi's father is going to sell. The ship gets swallowed by a storm, and the only survivors are Pi, an Orangutan by the name of Orange Juice, a Hyena, a Zebra and an incredibly fierce yet beautiful Bengal Tiger named Richard Parker and of course, Pi. The story goes on about the bond that Pi and Richard Parker form as they try to survive.
I won't tell you how it ends, it is up to you to go see it. Anyway, back to the movie. I have to point out that Tabu (Name Sake) plays Pi's mother. Another familiar face is Irrfan Khan (Name Sake) plays Pi when he is grown-up. I must state ahead of time that I love movies set in India. I would love to travel there someday. I love the colors, the animals, the entire feel that I get for the place is just incredibly intriguing. Also, some of the world's most beautiful people come from there. They all have such a natural beauty. The essence of elegance.
Let me state that the cinematography in this film is the absolute best that I have ever seen. I could not turn away from the screen. My eyes were magnetized to every single frame. The scenery, the animals, the water was all breathtaking. Absolutely incredible. Honestly, my parents didn't find the story all that great like I did, but they couldn't disagree about the imagery. Above is a photo of my favorite scene. It's dark out, and there are jellyfish everywhere, glowing. It's magnificent. Then, a whale comes up, out of the water, and it's glowing in the light from the jellyfish.
Although I think some parts of the movie are moving too slow, I think the movie is very very visually stunning! At the end it is how we want to tell the story about our life and the reality that we choose to believe and at the end it's just all illusion….
"
Repetition is important in the training not only of animals but also of humans.
"