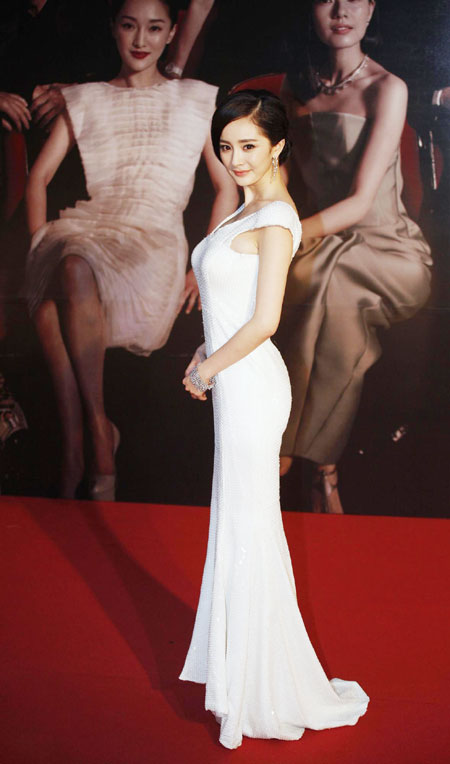 Yang Mi is a Chinese actress and singer. She is noted for her roles as Guo Xiang and Tang Xuejian respectively in the television series The Return of the Condor Heroes (2006) and Chinese Paladin 3 (2009). She has now gained even greater popularity from her breakthrough role as Luo Qingchuan in Palace (2011).
Yang is also a student in Beijing Film Academy's Performance Institute.Yang Mi was born to a police officer as a father while her mother didn't work. China Children's Film Studio held a children's television show training courses and then her parents decided to sign her up for it. She's also a graduate of Beijing Xuanwu Experimental Primary School(which no longer exists).
In 1990, 4 year old Yang Mi started acting in Director Chen Jia Lin's TV series "Tang Ming Huang", this was her first step to being an actor. Later, "Tang Ming Huang" became a very famous TV series, and Yang Mi was that cute little girl that acted as Princess Xian Ning. In 1992, she acted with Liu Xiao Lin Tong in TV series "Hou Wa" and won the 14th "Flying Award" and the 12th "Golden Eagle Award" for "Best Children's Series" prize. But at that time, Yang Mi was still a six year old kid that still didn't understand the importance of winning prizes.
After, Yang Mi concentrated in studying and at the same time, she modeled for a famous magazine "Duan Li". Until Yang Mi was 18, she starred as a classic character "Guo Xiang" in a Chinese novel "Shen Diao Xia Lu" and became famous, her out standing acting made her more famous than the lead roles in this TV series.
In 2005, Yang Mi attended the casting for the CCTV drama "Wang Zhao Jun", she defeated Fan Bing Bing, Li Bing Bing and other domestic actors and starred the lead role as Wang Zhao Jun. In the same year, Yang Mi was accepted into the bachelor class of The Beijing Film Academy with the highest score among all students that year. In 2008, Yang Mi starred the lead role "Tang Xue Jian" in TV series "Xian Jian San". She acted 2 roles with completely different personalities and had a big success. In just one summer, her fans grew from 40 thousand to 120 thousand. This Drama became Yang Mi's big turning point in her acting career.
2011's Magnolia Award had choice awards voted by several networks. Voting started from May 13 to June 9, the total number of people that voted was more than 280 million with micro blogging comments over 350,000. That night, Yang Mi won the title of "The Most Popular Actress" with the most votes. In early 2012 Yang revealed that she is in a relationship with actor and singer Hawick Lau.
Career
Yang began acting at the age of four. She played a minor role as Beggar So's daughter in King of Beggars (1992), which starred Stephen Chow as the titular character. In the late 2000s, Yang rose to fame for her roles in television series such as The Return of the Condor Heroes (2006) and Chinese Paladin 3 (2009). Her popularity increased after she starred as Luo Qingchuan in Palace (2011). Her increase in popularity from her performance in Palace helped land her a role in Painted Skin: The Resurrection, a sequel to Gordon Chan's 2008 film Painted Skin.
In 2010 she participated in Empires of the Deep, a Chinese-American co-produced film with a budget of US$100 million. In 2011, Mei Ah Entertainment announced that it will be producing four tailored-made films (Great Wudang, Chinese Princess Turandot, Windseeker, and Butterfly Cemetery) for Yang with a total investment of 300 million yuan for the four films due to the box office success of the horror film Mysterious Island (2011), which starred Yang. In 2012 Yang stated that she will be producing for the first time in her career, and her project will be a Chinese version of the American television series Gossip Girl, with Chinese Girl as a possible working title.