Akkineni Nagarjuna Rao born on 29 August 1959,Chennai, Tamil Nadu, India.
people names Yuva Samrat, Nag, King
Occupation Actor, Producer, Businessman
Years active 1986–present
Spouse Lakshmi Ramanaidu Daggubati (1984–1990 divorced)
Amala Akkineni (1992–present)
First Marriage
18/02/1984, Vijaya Sesh kalyana Mandapam, Chennai
First son -Naga Chaitanya (born at 4:20 am on 23/11/1986 at Swapna Nursing Home, Hyderabad)
Second marriage -11/06/1992, Adayar, Chennai
Second son - Akhil (born at 1:58 am on 08/04/1994 at San Jose, USA)
Parents - Nageswara Rao Akkineni
Annapurna Akkineni
The family moved to Hyderabad where he attended the Hyderabad Public School and studied his "Intermediate" from Little Flower Junior College and B.E. (Mechanical) from the College of Engineering, Guindy before completing M.S in Automobile Engineering from Eastern Michigan University.He is the spouse of actress Amala Akkineni, the father of actors Naga Chaitanya Akkineni and Akhil Akkineni.
Nagarjuna has married twice. He is currently married to Amala who was a popular actress in Tamil and Telugu film industries. He has two sons. Naga Chaitanya from his first marriage, and Akhil Akkineni from second marriage(featured in Sisindri).
The star is a close friend of the most popular heroine of bollywood and tollywood, Tabu.

Salary and wealth
Nagarjuna charges close to 12crores per movie and is considered as the most wealthy folks in the telugu film industry
Acting
Nagarjuna acted as a child artist in the 1967 Telugu film Sudigundalu directed by veteran Adurthi Subbarao. Years later he made his debut as a lead actor through the 1986 Telugu film Vikram. In 1988, he was starred in Aakhari Poratam directed by K. Raghavendra Rao where he was paired opposite Sridevi and Suhasini.
In 1989, he was starred in the Maniratnam directed Romantic-drama, Geethanjali which became a major box-office success and was critically acclaimed. The film went on to win the National Film Award for Best Popular Film Providing Wholesome Entertainment in 1990.
In the same year, Nagarjuna acted in Siva, an action blockbuster directed by Ram Gopal Varma. The film earned him his first Filmfare Best Actor Award.In 1990, he subsequently made his Bollywood debut with the Hindi remake of the same film titled Shiva.
He followed it up with action films like Killer, Chaithanya and Nirnayam working with directors such as Fazil and Priyadarshan. Other films which were released in the subsequent years include President Gari Pellam, Varasudu, Gharana Bullodu and Allari Alludu. In 1994 he starred in a Hindi-Telugu bilingual Criminal (1994) directed by Mahesh Bhatt. The same year he ventured into comedy for the first time with Hello Brother. It was later remade into Hindi as Judwaa and dubbed into Tamil.
In 1996, Nagarjuna starred and produced Ninne Pelladatha, which was directed by Krishna Vamsi. The movie fetched a National Award for him by winning the National Film Award for Best Feature Film in Telugu. The next year, Nagarjuna acted in Annamayya where he portrayed the role of Annamacharya, a 15th-century Telugu singer and poet, won him his third Filmfare Best Actor Award and his first Nandi Award for Best Actor. His subsequent releases were Nuvvu Vastavani, Ninne Premistha and Azad. He starred in the romantic comedies such as Santhosham, Manmadhudu, and Shivamani as well. He produced Satyam in 2003, that starred his nephew Sumanth.
Nagarjuna acted in and produced Super. In 2006, he starred in Sri Ramadasu, his second period film based on the 18th-century Telugu composer of the same name.
Nagarjuna received the Nandi Award for Best actor for the film. In December 2007, he appeared in Don and a year later, he appeared in King alongside Trisha Krishnan and Srihari.
In the year 2010, he had releases such as Kedi and Ragada. His latest film Gaganam was released on 11 February 2011. Its Tamil version was titled Payanam. In 2011 Nagarjuna signed three movies in a row. They are Rajanna,Damarukam and Shirdi Sai
Annapurna Studios
Nagarjuna revived his father's production Annapurna Studios which has become one of the most successful production companies of recent times in Tollywood. He never hesitathttp://moviesgallery.oneindia.in/main.php?g2_view=rss.SimpleRender&g2_itemId=654631es to experiment when he produces films. He gave a chance to a newcomer who had no prior experience in movies to direct him. The newcomer didn't disappoint him and went on to become one of the finest directors of Indian film industry.
The director is none other than RamGopal Verma. Nagarjuna is also known for his swiftness in decision making. He agreed to work with Krishna Vamsi(director) after seeing 10-minute-rushes of the director's film Gulabi. His decision proved to be bang on target as they made the blockbuster movie Ninne Pelladutha[citation needed]..
Filmmaking in Hyderabad is all set to become grand with the addition five new state-of-the-art, climate controlled production floors at the 30-year-old Annapurna Studios.
The one lakh square foot newly added floors are also equipped with five-star luxury make-up rooms and dance rehearsal facility among others.
Akkineni Nagarjuna, actor and the managing director of Annapurna Studios the media that with the addition of the new five floors on the seven acre premises of the studio, combined with its already five existing facilities in the 22-acre studio in Banjara Hills, Annapurna Studios would become the largest such film studio in Asia.
With Rs 100 crore invested for developing the new facilities, the studio will be able to host bigger volume of global movie productions.
The studio, which has the largest number of trained crew, will offer international standard 'Concept to Can' movie production services.
With additional capacities being developed and strategic partnership with global players like Reliance Media Works, SGO-Spain and Light Illusion-UK, Annapurna Studios hopes to lure multi-million dollar movie production business into the state, Nagarjuna said.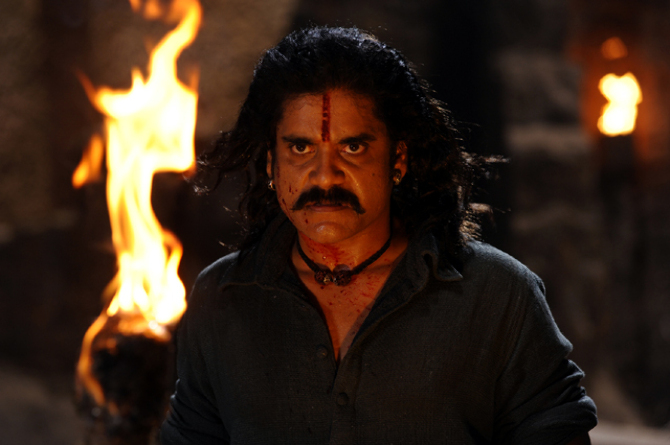 A not-for-profit Annapurna International School for Film and Media and an upgraded film preview theatre also exist on the premises of Annapurna Studios.
Nagarjuna, managing director of Annapurna Studios, said that the addition of five new floors, combined with the five already in place at the 22-acre facility in Banjara Hills, would make it the largest film studio in Asia.
Trivia
Nagarjuna owns several restaurants in India and abroad and often visits them on a regular basis.
Nagarjuna is investing close to 87 crores in real estate projects in Dubai. He is planning to team up with SRK to build a national level power project in Hyderabad.
Nagarjuna is a close friend to the business tycoon Anil Ambani.
While working on Khuda Gawah in Afganisthan, Nagarjuna fell in love with the region so much that he bought a huge property there and wanted to build a film studio, but later sold the property after the 9/11 attacks.