Sanjay Balraj Dutt was born on 29 July 1959 to Bollywood actors Sunil Dutt and Nargis.
sanjay Dutt completed his education at the Lawrence School Sanawar.
He belongs to a village near district Yamuna Nagar (Haryana). The village's name is Mandhaulli. His beloved mom's (Nargis Dutt) memorial grave is still there on the bank of river Yamuna.
Height-6' (1.83 m)
Film actor, Film producer, Comedian, Politician, Television presenter
Marriage
- Dutt married actress Richa Sharma in 1986. Sharma died of brain tumor on 10 December 1988.
The couple have a daughter, Trishala, born in 1987, who lives in the United States with her grandparents, following a custody battle with Dutt after the death of his wife.
Daughter, Trishala, who studies Forensic Science in America.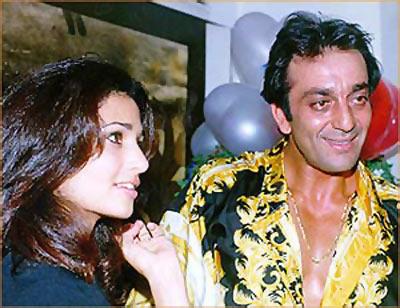 Dutt's second marriage was to model Rhea Pillai in 1998.
They divorced in 2005. Dutt married Manyata (also known as Dilnawaz Sheikh)in 2008 at a private ceremony in Goa, after two years of dating.
On 21 October 2010, he became a father to twins, a boy named Shahraan and a girl named Iqra.
Police treatment-
Dutt is also well known for having drug problems, in the early stages of his career, for which he underwent treatment on his father's insistence at a drug rehab centre in Texas, USA. This was after he had been arrested with 357 grams of cocaine in February 1982 and was sentenced to 17 months imprisonment. He was released in July of that year after only 5 months in prison and ordered to serve the rest of his sentence on police bail. He was granted permission to leave India whilst on bail, in order to receive treatment in Texas.
He returned to India after four years, once again on his father's insistence and established himself as one of the prominent young faces of Hindi cinema. 2009 saw Dutt enter politics and although he was not allowed to contest elections due to the charges of TADA against him (see illegal possession of arms), he was instead appointed General Secretary of the Samajwadi party. In December 2010 he left his post due to the many controversies he became embroiled in, He left the post stating Politics isn't for him, as he thinks from his heart as well as being too outspoken for such a role.
One of these remarks saw him, during a speech on live TV, offering Mayawati, a leader of an opposing party, a jaadu ki jhappi and pappi (a magical hug and kiss, a now infamous dialogue from his Munnabhai Mbbs movie) as he felt she was in need of it.
Film career
- As a child actor, Dutt appeared in the 1972 film Reshma Aur Shera, which starred his father. In this film, he appears briefly as a qawali singer. Dutt made his Bollywood movie debut with Rocky in 1981 his mother passed away three days before the movies premier. He went on to act in many 1980's films including Vidhata, Jeeva, Naam and Taaqatwar, Kabzaa and Hathyar(1989)
noteable movies- In the 1990s Dutt acted in films such as Sadak, Thanedaar and Khoon Ka Karz. He starred in the 1991 movie Saajan for which he was nominated for the Filmfare Best Actor Award. In 1993 he starred in the movie Khal Nayak for which he earned his second Filmfare Best Actor Award nomination. In 1999's Vaastav: The Reality, he finally won his first Filmfare Best Actor Award.
Lage raho munnabhai (6), khalnayak (8), Saajan (11), Vidhaata (14), Sadak (17), Naam (23), Munnabhai Mbbs (27), Vaastav (34), Kaante (52),Rocky (58) Mission Kashmir (61), Aatish (77), Daag the fire (84) and Haseena maan jayegi (95) In december 1999 Filmfare also named Dutt as the ninth most influential film personality of the century.