A.R.rahman DOB 6th jan 1966 place India madras, his birth name is A.S.Dileep kumar.
His nick name – the Mozart of Chennai.
A.R.rahman does composing, singing song writing, recording, and producing. He is a musician, Multi instrumentalist and philanthropist.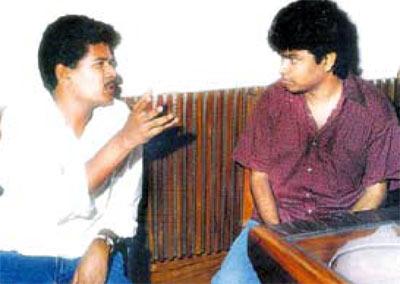 His early days- A.R.rahman born in an musically affluent mudaliar Tamil family ,father – R.K. shekar was music composer of Tamil and Malayalam movies. Rahman lost his dad at the age of 9, and his family had to rent out his father's musical equipment as their source of income. Rahman was raised by his mother Kareema (born Kashturi). Rahman served as a keyboard player and an arranger in bands such as "Roots", with childhood friend and percussionist Sivamani, John Anthony, Suresh Peters, JoJo and Raja. Rahman is the founder of the Chennai-based rock group, "Nemesis Avenue".
He mastered various music instruments like Keyboard, Piano, Synthesizer, Harmonium and Guitar. His curiosity in Synthesizer in particular, increased because, he says, it was the "ideal combination of music and technology". At the age of 11, he started playing musical instruments in the orchestra of Malayalam composer and a close friend of Rahman's father, M. K. Arjunan.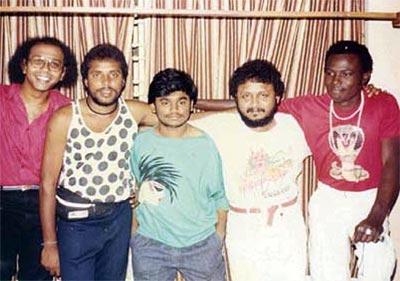 he started working with other composers such as M. S. Viswanathan, Ilaiyaraaja, Ramesh Naidu, Raj-Koti and also accompanied Zakir Hussain, Kunnakudi Vaidyanathan and L. Shankar on world tours and obtained a scholarship with Trinity College, London, board of the Trinity College of Music.
He was introduced to Qadiri Islam when his younger sister fell severely ill in 1984. Subsequently, Rahman along with other members of his family converted to Islam in 1989, when he was 23 years old. He changed his name from A. S. Dileep Kumar to Allah Rakha Rahman i.e. A. R. Rahman.
Rahman accidentally played a tune on piano during his father's recording for a film, which R. K. Shekhar later developed into a complete song, "Vellithen Kinnam Pol", for the Malayalam film Penpada. This track credited to his father, was sung by Jayachandran and penned by Bharanikkavu Sivakumar. film career began in 1992, when he started Panchathan Record Inn, a music recording and mixing studio attached to the backyard of his house.
Over time it would become the most advanced recording studio in India, and arguably one of Asia's most sophisticated and high-tech studios. He initially composed scores for documentaries, jingles for advertisements and Indian Television channels and other projects. In 1987 Rahman, then still known as Dileep got his first opportunity to compose jingles for new range of watches being launched by Allwyn.
At an advertising awards function, Rahman met one of India's most famous directors, Mani Ratnam. Rahman played him a few of his music samples. Mani loved them so much that he asked Rahman to compose the music for his next film, Roja (1992).
The debut led Rahman to receive the Rajat Kamal (Silver Lotus) award for Best Music Director at the National Film Awards, an unprecedented win for a first-time film composer. Rahman has since been awarded the Silver Lotus three more times for Minsara Kanavu (Electric Dreams, Tamil) in 1997, Lagaan (Tax, Hindi) in 2002, Kannathil Muthamittal (A Peck on the Cheek, Tamil) in 2003, the most ever by any composer.
Roja's score met with high sales and acclaim in both its original and dubbed versions, led by the theme song "Chinna Chinna Aasai" bringing about a marked change in film music at the time. Rahman followed this with successful scores for Tamil–language films of the Chennai film industry including Ratnam's politically charged Bombay, the urbanite Kadhalan, Thiruda Thiruda and S. Shankar's debut film Gentleman, spurred by the popular dance song "Chikku Bukku Rayile".
The soundtrack of Bombay sold 12 million copies worldwide. Rangeela, directed by Ram Gopal Varma, marked Rahman's debut for Hindi-language films made in the Mumbai film industry.Many successful scores for films including Dil Se and the percussive Taal followed.Sufi mysticism would inspire the track "Chaiyya Chaiyya" from the former, as well as the composition "Zikr" from his score for the film Netaji Subhas Chandra Bose: The Forgotten Hero for which he created large symphonic orchestral and choral arrangements.
He has consistently produced commercially successful soundtracks when collaborating with particular film directors such as Mani Ratnam who he has worked with since Roja, and the director S. Shankar in the films Gentleman, Kadhalan, Indian, Jeans, Mudhalvan, Nayak, Boys, Sivaji and Enthiran. Rahman launched his own music label, KM Music. Its first release was his score to the film Sillunu Oru Kaadhal. Rahman scored the Mandarin language picture Warriors of Heaven and Earth in 2003 after researching and utilizing Chinese and Japanese classical music,and won the Just Plain Folks Music Award For Best Music Album for his score of the 2006 film Varalaru (God Father).
Rahman scored the film Slumdog Millionaire in 2008, for which he won a Golden Globe and two Academy Awards, becoming the first Asian to do so. The songs "Jai Ho" and "O…Saya" from the soundtrack of this film met with commercial success internationally. In 2010, Rahman composed scores for the romance film Vinnaithaandi Varuvaayaa, blockbuster sci-fi romance film Enthiran and Danny Boyle's 127 Hours. Rahman started off the year 2011 by scoring Imtiaz Ali's musical film Rockstar. The soundtrack became a phenomenal success and earned Rahman immense critical praise. Rahman has been involved in several projects aside from film.
Vande Mataram, an album of his original compositions released on India's 50th anniversary of independence in 1997, enjoyed great commercial success. Vande Mataram is the largest selling Indian non-film album to date. He followed it up with an album for the Bharat Bala–directed video Jana Gana Mana, a conglomeration of performances by many leading exponents and artists of Indian classical music.
Since 2004, Rahman has performed three successful world tours to audiences in Singapore, Australia, Malaysia, Dubai, the United Kingdom, Canada, the United States and India. Rahman also performed at the White House State dinner arranged by US President Barack Obama during the official visit of Indian Prime Minister Manmohan Singh on November 24, 2009.
Music style

Skilled in Carnatic music, Western classical, Hindustani music and the Qawwali style of Nusrat Fateh Ali Khan, Rahman has been noted to write film songs that amalgamate elements of these music systems and other genres, layering instruments from differing music idioms in an improvisatory manner.
Awards
the Mauritius National Award

the Malaysian Award for contributions to music

National Film Award winner

Tamil Nadu State Film Awards

Filmfare Awards

Filmfare Awards South

the Government of Tamil Nadu

the Government of Uttar Pradesh

Government of Madhya Pradesh

Padma Shri from the Government of India.

Stanford University for contributions to global music.

the Limca Book of Records

the Guinness World Records

the Rotary Club of Madras.

the Broadcast Film Critics Association Award

the Golden Globe Award for Best Original Score

BAFTA Award for Best Film Music

two Academy Awards

doctorate from Anna University in Chennai

Grammy Awards

the Padma Bhushan
I say:-
A.R.rahman (Allah Rakha Rahman) "I'm a deeply spiritual person. Sufism is about love - love for a fellow human, love for all round humanity, and ultimately love for God. For me, it's where music and religion meet - at dargahs, you will find qawwalis. That's my inspiration."

Maybe some of you can help me add more to this list and thus save us!
1. Chaiyya Chaiyya - Composer: A.R.Rahman, Movie: Dil Se - best train song, period.
2. Mere Sapnon Ki Rani - Composer: S.D.Burman, Movie: Aradhana - I grew up loving this evergreen classic.
3. Chikku bukku Raile - Composer: A.R.Rahman, Movie: Gentleman - This was a rage when it came out. Continues to be a fun listen.
4. Main hoon jhumroo- Composer: Kishore Kumar, Movie: Jhumroo - Kishoreda weaves magic with his own composition. The yodeling in this song is pure gold.
5. Hum dono do premi- Composer: R.D.Burman, Movie: Ajnabee - A R.D hit piece with Rajesh Khanna and Zeenat Aman frolicking on top of the train. This is one of those songs where the innocence of the kid kinda helps if you know what I mean :)
6. Hoga Tumse Pyaara Kaun- Composer: R.D.Burman, Movie: Zamane Ko Dikhana Hai. Pamchamda gives this youthful movie some bubbly music. This song on top of a train (canned in the studio of course) is a favorite. Of course, there is a different song that earns bigger raves in this movie.
7. Hai Apna Dil To Awara- Composer: S.D.Burman , Movie: Solva Saal. A debonair Dev Anand and a gorgeous Waheeda Rehman elevate an awesome Hemant'da song to an even higher level. What a wonderful piece.
8. Jiya o jiya- Composer: Shankar-Jaikishan , Movie: Jab Pyaar Kisi se hota hai. Another Dev Anand classic. This time with Asha Parekh. Rafi shines like a star in this one.