Robyn Rihanna Fenty
, born February 20, 1988, she is famiously know as Rihanna.
Rihanna moved to the United States to pursue a recording career at the age of 16 under the guidance of record producer Evan Rogers.
The eldest of three siblings, she has two younger brothers from the same two parents, Rorrey and Rajad Fenty.
She also has two half-sisters and a half-brother from her father's side, each born by different mothers before Rihanna's father married her mother.
Her childhood was deeply affected by her father's addiction to crack cocaine, alcohol, and marijuana, and her parents' rocky marriage ended when she was 14, although, he remained a part of her life.
She was an army cadet in a sub-military programme that trained with the military of Barbados and Shontelle was her drill sergeant.
Rihanna met American music producer Evan Rogers through a mutual friend, who knew Rogers' wife, when he and his Bajan-born wife were in Barbados for the holidays.
she chose her middle name as her stage name because to her, the name Rihanna is just a stage that started in a recording studio in 2005.
She adopted a more rebellious image while recording the album, eventually dying her hair black and cutting it short. Rihanna commented, "I want to keep people dancing but still be soulful at the same time [...] You feel different every album, and [at] this stage I feel like I want to do a lot of uptempo [songs]."
.
the re-issue of her third album, titled Good Girl Gone Bad: Reloaded, which was released in June 2008. Rihanna released the first singles from the re-release "Take a Bow"which became a worldwide number-one hit – the duet with Maroon 5, "If I Never See Your Face Again,"[60] and the other Hot 100 number-one hit "Disturbia."
Rihanna was nominated in four categories at the 2007 MTV Video Music Awards, winning Monster Single of the Year and Video of the Year.
the 2008 Grammy Awards, Rihanna earned her first Grammy Award for Best Rap/Sung Collaboration, in addition to receiving five other nominations, including Record of the Year, Best Dance Recording, Best R&B Performance by a Duo or Group and Best R&B Song.
Rihanna is a Barbadian R&B recording artist.
Rihanna began singing at around the age of seven.
She formed a musical trio with two of her classmates.
Rihanna's scheduled performance at the 2009 Grammy Awards was cancelled. Reports later surfaced regarding an alleged altercation with then-boyfriend, singer Chris Brown, who was arrested on suspicion of making criminal threats. On March 5, 2009, Brown was charged with assault and making criminal threats. Due to a leaked photograph from the Los Angeles Police Department obtained by TMZ.com—which revealed Rihanna had sustained visible injuries—an organization known as STOParazzi has proposed a law called "Rihanna's Law," which, if enacted, would "deter employees of law enforcement agencies from releasing photos or information that exploits crime victims." Gil Kaufman of VH1 reported "[t]he nonstop coverage of the Rihanna/Brown case has brought up a number of issues regarding the privacy of alleged victims of domestic violence, including the decision by almost all major news outlets to divulge the identity of the victim—which is not typically done in domestic-violence cases" and the controversial distribution of the leaked photograph.
Rihanna was subpoenaed to testify during a preliminary hearing in L.A. on June 22, 2009. "The DA told me Rihanna will be subpoenaed. I will accept on her behalf," Rihanna's attorney, Donald Etra told Us Weekly. On June 22, 2009, Brown pled guilty to the felony assault. In exchange for his plea Brown received five years probation and was ordered to stay fifty yards away from Rihanna, unless at public events, which then will be reduced to ten yards.
"Rihanna has an amazing voice which showed during her acoustic set, she just needs to work on her audience engagement during live shows."
She is also starting her own company,
Rihanna Entertainment
, in which she will "merge all of her businesses including music, film, fragrance, fashion and book ventures".
It was announced that Rihanna would make her feature film debut in the big-screen adaptation of the game of the same name, Battleship, scheduled for release in 2012.
"her show was a Disney-esque choreographed fantasy of non-stop hip-swivelling, sassy attitude and personal endearments and a string of funky, sugar-free hits."
"a vision of Ann Summers couture in thigh-high boots and a few scraps of black PVC."
The Province commented that "even with the whole haute couture B&D clearly firing on all points, she's still got a ways to go to become the new Janet Jackson."
Rihanna's tattoos have drawn much media attention.Her tattoos include a music note tattoo on her ankle, a Pisces sign behind her right ear,a Sanskrit prayer going down her hip, a star in her left ear,the word love on her left middle finger,an Arabic phrase meaning "Freedom in Christ" on her ribcage area,a trail of stars going down the back of her neck,a skull with a pink hair bow, the phrase "shhh..." on her right index finger,the date 11.4.86 in Roman numerals on top of her left shoulder,a henna-style dragon claw including hibiscus flowers,a handgun under her right armpit, a six-word phrase on her chest, and the phrase "rebelle fleur" on her neck, said to mean "rebel/rebellious flower" in French.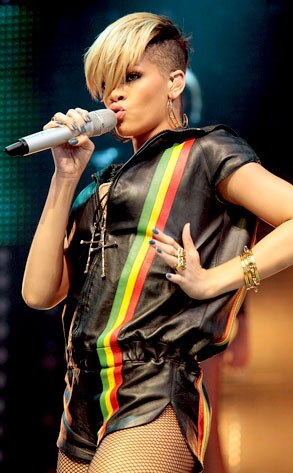 She has also amassed a total of four Grammy Awards, four American Music Awards, and eighteen Billboard Music Awards.
She has received several accolades, including the 2007 World Music Awards for World's Best-Selling Pop Female Artist and Female Entertainer of the Year, and the 2011 Brit Award for Best International Female Solo Artist