Megan Denise Fox is an model and actress, she started here career as actress in the year 2001.fox know Irish and french. there parients were strict and She said that the two were "very strict" and that she was not allowed to have a boyfriend or invite friends to her house.She lived with her mother until she made enough money to support herself.
Fox began her training in drama and dance at age five, in Kingston.
she was 13 years old, Fox began modeling after winning several awards at the 1999 American Modeling and Talent Convention in Hilton Head, South Carolina.
Fox has spoken extensively of her time in education; that in middle school she was bullied and picked on and she ate lunch in the bathroom to avoid being "pelted with ketchup packets". She said that the problem was not her looks, but that she had "always gotten along better with boys" and that "rubbed some people the wrong way"."everyone hated me, and I was a total outcast, my friends were always guys, I have a very aggressive personality, and girls didn't like me for that. I've had only one great girlfriend my whole life".
Fox dated with brian austin green in 2004, in 2006 they engaged and in 2009 they broke relationship.Fox and Green were engaged again in June 2010,and just a few weeks later, on June 24, 2010, the two wed in a private ceremony at the Four Seasons Resort on the Big Island of Hawaii.
fox is crazy about comic books, anime, video games , dogs and she loves to smoke marijuana .
Fox was targeted by a group of fashion-motivated criminals known as "The Bling Ring", who robbed Green's home because she was living with him.
fox she waas even called as bisexual , when she was 18 she had relationship with a female stripper.
fox has physiological fear of flying ,she developed this about the time she turned 20.
she get panic attacks when listening to Brittney spears music.
fox is known as next anjelina jolie .
fox has lot of tattoos on here body,Fox has eight known tattoos."Brian" on her lower hip.


fox lines :- "I especially don't trust girls in this industry, because it's incredibly competitive, and I'm just not interested,"
:- "all humans are born with the ability to be attracted to both sexes"
:- "They're boys; they're easily toyed with,"
:- "I tell stories and have them eating out of my hand. Not all of it is true. In fact, most of it is bullshit."
:- "I never said she was my girlfriend! I just said that I loved her, and I did love her. The real story is more sobering.
It's not a sexy, fun-time, fantasy story. But that's not the story you tell GQ."


:-" .I don't want to elaborate. I would never call myself a cutter. Girls go through different phases when they're growing up, when they're miserable and do different things, whether it's an eating disorder or they dabble in cutting. I'm really insecure about everything. I see what I look like, but there are things that I like and things that I dislike. My hair is good. The color of my eyes is good, obviously. I'm too short. But overall, I'm not super excited about the whole thing. I never think I'm worthy of anything... I have a sick feeling of being mocked all the time. I have a lot of self-loathing. Self-loathing doesn't keep me from being happy. But that doesn't mean I don't struggle. I am very vulnerable. But I can be aggressive, hurtful, domineering and selfish, too. I'm emotionally unpredictable and all over the place. I'm a control freak."
:-Fox stated: "It depends on what your idea of a role model is," and continued with, "If your idea of a role model is somebody who's gonna preach to your kids that sex before marriage is wrong and cursing is wrong and women should be this and be that, then I'm not a role model. But if you want your girls to feel strong and intelligent and be outspoken and fight for what they think is right, then I want to be that type of role model, yeah."
:- "I need to behave in a way and handle myself in a way that will cause people to take me seriously,"
:- " you can be sexy and be intelligent and be taken seriously, or you can be sexy and you can be out at clubs every night and not be [taken seriously]" but that she has not gone "completely insane".
:- "I definitely feel ill-prepared; I mean, I don't know if anyone ever sits back and goes, 'Now is the moment that I think I should be a famous celebrity,' – but I definitely feel it's premature. I mean, I was in one movie that people have seen."
:- "I don't want to have people get completely sick of me before I've ever even done something legitimate."
:-"I am a brunette with tattoos, I curse and I have made mention of sex before. I joked about it which people find outrageous so they want to constantly compare that to her."
:- "I'm sure she has no idea who I am. But if I were her, I'd be like, 'Who the fuck is this little bullshit brat who was in Transformers that's going to be the next me?' I don't want to meet her. I'd be embarrassed."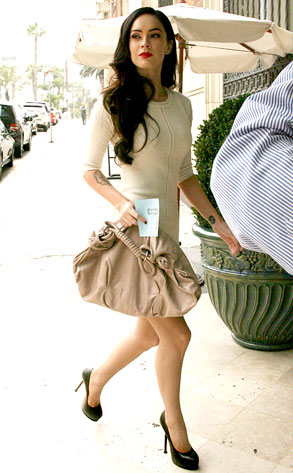 appeared in magazine:- maxim ,cosmo girl, paw print , FHM, GQ,usa weekend ,esquire,empire,entertainment weekly and Elle.
Fox was ranked #17 --- magazines Hollywood faces.
ranked #16 on ---- the Maxim magazine Hot 100 of 2008.
named #68 in FHM magazine's ---- "100 Sexiest Women in the World 2006.
ranked #18 on ---- the Maxim magazine Hot 100 of 2007.
ranked #1 on Moviefone's --- 'The 25 Hottest Actors Under 25' in 2008.
ranked #2 on ----- the Maxim magazine Hot 100 of 2009 list in 2009.
FHM readers voted her the ---- "Sexiest Woman in the World" in 2008.