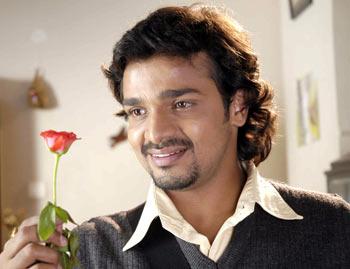 Vijay Raghavendra is kannda actor, He was born to veteran producer S.A. Chine Gowda.Vijay married to daughter of B.K. Shivakumar, Spandana in 2007.
Actor ragavendra rajkumar ,Actor Shivarajkumar and Puneeth Rajkumar are his cousins and Dr.Rajkumar is his uncle. HE started his career as a child actor and goy huge success from Chinnari Mutha. The actor also received a National Award for Kotreshi Kanasu.
In Ninagagi he played the lead role and the movie proved to be a box office hit.
Kallarali Hoovagi, Rishi, Khushi and Kaaranji are some of the most memorable films.
Bad luck is following him despite of his good performances. A series of films like Ganesha Mathe Bandha, Minchina Ota, Naanu Neenu Jodi, Nam Yajamanru, IPC Section 300, Gokula, Beladingalaagi Baa that got crushed in the box office has put this stable actor at the back seat of his career.
After a towering success of 'Ninagaagi' (remake of 'Nuvve Kavali') Vijaya Raghavendra faced bad luck despite of his superb performance.
The film like 'Kallarali Hoovagi' under the direction of TS Nagabharana had given him more courage but sadly the film had to be vacated to accommodate another Kannada film.
I do not stop putting good efforts. I am hopeful and waiting for a breakthrough says Vijaya Raghavendra the sets of 'Shravana' Kannada film.
Meanwhile Vijaya Raghavendra has put an application for a good role in 'Shivappanayaka' that is taken up by T.S Nagabharana. Kumar Bangarappa is coming back to acting after a long exile in the title role of 'Shivappanayaka'.
Director of repute TS Nagabharana made 'Kallarali Hoovagi' for Kumar Bangarappa younger brother Madhu Bangarappa a few years ago.