Genelia D'Souza
-- According to D'Souza, her name "Genelia", means "rare" or "unique", and is a portmanteau of Jeanette and Neil, her mother and father's name. She is also often informally referred to as Geenu, her nickname.Her mothertongue is Konkani.

August 5, 1987
(

1987-08-05

)
Genelia D'Souza, also known as Harini to close friends, was born on 5 August 1987 in England to a Mangalore Catholic family. Her parents are Jennifer and Neil. She has an older brother. She grew up in Mumbai.
Her school days were spent in Apostolic Carmel High School, Mumbai while she spent her college days at St.Andrews College to pursue a degree in management studies. She is known to be a state level athlete and a national level player.
She apparently got her name from her parents only. Her Pet name is Geenu though Industry has given her another nickname Harini(the character she played in Boys). Her family hails from the Mangalorean Catholic Community. Genelia has a younger brother named Nigel D'Souza who currently works in Bombay Stock Exchange. She studied in Apostle Carmel High School in Bandra and later pursued Bachelor's Degree of Management Studies from St. Andrews College, Bandra. She was also a State level athlete and a National Level Football Player.
she said that "My communication with God is conversational, I'm God's favourite child; I believe that God has always been kind to me." Tabloids have repeatedly linked D'Souza romantically with Ritesh Deshmukh, ever since they starred together in their debut film Tujhe Meri Kasam in 2003. They were reportedly ready to get engaged, but Ritesh's father, the then-Maharashtra Chief Minister, Vilasrao Deshmukh did not agree. Ever since then, D'Souza has strongly denied any rumors of a relationship with Deshmukh, and responds that she has just friendly relations with him.
movie life
Genelia made her acting debut in Bollywood in 2003, with Tujhe Meri Kasam, alongside Ritesh Deshmukh. The movie centers on two friends, who study in the same college, have houses opposite each other, and were born in the same hospital on the same day. D'Souza portrayed Anju, one of the friends. The movie garnered poor box office returns, and it failed to propel her career in Bollywood. Following her poor debut in Bollywood, she decided to act in South Indian films. Tamil director, S. Shankar, was impressed with her performance in the Parker Pen commercial and decided to cast her in a leading role in his 2003 Tamil film Boys, a story about five teenagers having stereotypical teen-boy fantasies. D'Souza portrayed the character of Harini, a girl who falls in love with one of the boys from the group. The movie was well received, and subsequently she started receiving Telugu film offers.
She left Tamil cinema for a while to concentrate on the Telugu film industry. She made her Telugu debut in Satyam in 2003 opposite Sumanth, in which she played the role of a medical student, for which she was praised for her performance.
The movie was a box-office success,and it raised her profile in the Telugu film industry. Broader public recognition came to D'Souza in her second Hindi movie, Masti in 2004, which was also opposite Ritesh Deshmukh. The comedy focuses on three close friends who reunite after three years, but are now married and are being harassed by their wives.
D'Souza portrayed the character of one of the wives. Indian film critic Taran Adarsh was complimentary of D'Souza's role, saying, "Amongst the wives, Genelia is the best, Genelia looks the stern and demanding wife and is sure to be noticed." This film was a critical success, and also fared well at the UK box office. The same year, she appeared in the Telugu fim Samba. Her final Telugu movie in 2004 was Sye, set against a rugby union backdrop, in which she played the role of a vivacious college student.
In 2005, D'Souza experienced a slump in her career. Her first Telugu movie in 2005, Naa Alludu, was commercially unsuccessful. Later that year, she starred in the Tamil romantic entertainer Sachein, in which she played the role of Shalini, a typical fashionable college-going Tamil girl. A review in The Hindu noted, "Genelia, who hardly made an impression in Boys, makes much impact in Sachein."
The movie evoked mixed response from audiences, but was well received with the younger generation, and was a commercial success. She later appeared in the Telugu patriotic movie Subhash Chandra Bose set against a backdrop of Pre-independence period, which was also an economic failure.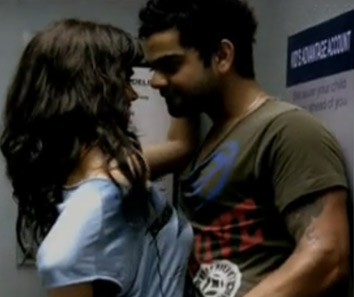 The year 2006 marked a significant turning point in D'Souza's career. She completed two Telugu movies in early 2006, one was the romantic comedy Happy, and the other was Raam. She then portrayed the role of Haasini, a vibrant, effervescent and a happy-go-lucky young girl, in the 2006 Telugu romantic film Bommarillu, alongside Siddharth Narayan.
The movie, a blockbuster at the box-office, grossed Indian rupee250 million (US$ 5.68 million) in India, and also won the 2006 Golden Nandi award. Her character was well-received by critics, and garnered her the Telugu Filmfare Award for Best Actress, besides Nandi Special Jury Award and Santosham Award for Best Actress.
Following the success of Bommarillu, D'Souza played the role of the daughter of a local don, in the Tamil gangster film Chennai Kadhal. D'Souza's performance received ambivalent reviews. While The Hindu praised her performance, Rediff criticized her commenting, "Genelia stands up yet again to prove the point that if you are pretty and well dressed, you can get away with anything, without acting."
Shortly after wards in 2007, D'Souza played the role of sister of a notorious gangster in the blockbuster Telugu movie Dhee. Her performance was appreciated, netting her the FNCC Best Actress Award. The following year, D'Souza appeared in the 2008 Telugu romantic thriller Mr. Medhavi, in which she portrayed the role of a student from Canada. The movie was moderately successful, nonetheless D'Souza was complimented for her performance.
She made her Kannada debut in Satya In Love the same year, in which she was appreciated for her smile. Later, she was cast in a leading role in Santhosh Subramaniam, a Tamil remake of Bommarillu. The film also turned out to be rather successful as its predecessor. Sify described D'Souza's portrayal as "the soul of the film" and the film's "biggest strength", however Rediff described her character as "appears a little too good to be true."
brand ambassador
* Fanta,
*Virgin Mobile India,
*Fastrack, LG Mobiles,
*Garnier Light,
*Margo, and
* Perk in India
With her success in 'Jaane Tu Ya Jaane Na', this lissome beauty has managed to bag endorsements and has replace Bollywood beauties Rani and Preity.
D'Souza at HDIL India Couture Week in 2009. D'Souza was a part of Tamil director Mani Ratnam's stage show, Netru, Indru, Naalai, an event which seeks to raise funds for The Banyan, a voluntary organisation which rehabilitates homeless women with mental illness in Chennai.
She was one of the judges at the grand finale of Gladrags Mega Model and Manhunt 2009 contest on 28 March 2009. She also walked the ramp alongside Tushar Kapoor for fashion designer Manish Malhotra at the Lakme Fashion Week 2009 on 28 March 2009. On April 5, 2009, D'Souza was among several Bollywood celebrities to perform at the Pantaloons Femina Miss India 2009 finale in Mumbai.
In October 2009, she appeared as a showstopper for jewellery designer Farah Khan on the second season of Housing Development and Infrastructure Limited (HDIL) India Couture Week, a platform created to celebrate Indiaâ fashion heritage by showcasing the countryâ leading couture designers. On October 24, 2009, D'Souza began hosting Big Switch, a television show based on slum kids on UTV Bindass channel to reach a bigger audience.
She is now the brand ambassador of the soft drink Fanta replacing Rani Mukherjee, the chocolate Perk replacing Preity Zinta, and Spinz deodorant. She has also unveiled Spinz Black Magic deodorant on October 7, 2009 in Mumbai, and the Ceres Store retail outlet.
At the Chennai International Fashion Week (CIFW) in December 2009, she appeared as a showstopper for designer Ishita Singh's spring-summer indigenous collection of 2010, showcasing the best of Indian and Western dresses. She also holds a Limca world record of delivering four different super hit films in four different languages, Bommarillu (Telugu), Satya In Love (Kannada), Santosh Subramaniam (Tamil), and Jaane Tu... Ya Jaane Na (Hindi) in a span of one calendar year.
She was a part of online market portal eBay's 2010 "Dream House" challenge, where she transformed an empty three room apartment in Bandra into an attractive home with online shopping. She had been provided a budget of
4.5 lakh (US$9,800)
and two weeks to create a look she wants with items on sale on the website.
On the occasion of Children's Day (November 14), D'Souza auctioned a few items from the apartment. All proceeds received from the auction was given to Aseema, a Non-governmental organization (NGO), which aims to provide education to underprivileged children.
Awards
Filmfare Award for Best Female Actress (Telugu), 2006 for Bomarillu
Santosham Award for Best Actress,2006 for Bomarillu
Nandi Special Jury Award, 2006 for Bomarillu
FNCC Best Actress Award, 2007 for Dhee
Sitara Award for Best Actress, 2009 for Ready
Sitara Award for Star Sitara Jodi with actor Ram, 2009 for Ready
Young Achiever's Award, 2009 for being a popular Youth Icon
CNBC Brand Ambassador of 2010 Award