John Christopher Depp III
was born June 9, 1963, in Owensboro, Kentucky. The son of John Christopher, a city engineer and Betty Sue Palmer, a waitress and homemaker (Depp has a tattoo of his mother's name on his left arm), young Johnny relocated to Florida, with his three older siblings.
The family moved to Florida shortly after the death of Depp's grandfather, with whom the future actor was very close.
Never the studious teenager and even more distraught by the divorce of his parents, Depp delved into the world of experimental drugs, and picked up a whole new passion: the guitar.
The high-school dropout spent his days playing guitar in a garage band, after he taught himself how to play with the instrument his mother bought him.
Depp joined a rock band called The Flame, with whom he toured the Florida nightclub circuit. The Flame eventually dubbed themselves the Kids, and the band was hired as the opening act on an Iggy Pop tour.
Hoping to strike a chord as famous rockers, the Kids moved to Los Angeles. Depp took a job selling ballpoint pens over the phone in order to support himself, but he and his fellow rockers decided to break up and move on.
Bigger and better things awaited Depp, who at the time was married to makeup artist Lori Allison. Their marriage was short-lived, but it did lead to something: Lori introduced Johnny to Nicolas Cage, who saw star potential in the young Depp.


Thanks to their encounter, Depp was cast in his feature film debut, in the slasher Nightmare on Elm Street, in 1984.

After a starring role in the campy Private Resort, a bit part in 1986's Platoon, and acting lessons at L.A.'s Loft Studio, Depp was cast as Officer Tom Hanson in the teen crime drama, 21 Jump Street. Depp initially refused the role, but eventually accepted it and remained on the show -- and on the cover of every teen magazine -- for 3 years. To his dismay, Depp became a heartthrob posted on the wall of every teenage girl, a role he wanted no part in.
Depp was given the opportunity to prove his worth as the eccentric title role in Tim Burton's Edward Scissorhands, in 1990. He starred in Cry-Baby that same year, and even made an appearance in the final installment of Nightmare on Elm Street, Freddy's Dead: The Final Nightmare, in which he was credited as Oprah Noodlemantra.


The brooding actor made it a point to always take on different characterizations. He certainly never became pigeonholed, despite the oddball, wacky characters he usually portrayed, as seen in 1993's Benny & Joon and 1994's Ed Wood. Depp made Hollywood and critics take notice with his incredible portrayal of a guy tired of his small-town lifestyle in 1993's What's Eating Gilbert Grape.

While his work in 1995's Don Juan DeMarco and Nick of Time didn't garner much attention, Depp was highly praised for his turn as an FBI undercover agent who infiltrates the mob opposite Al Pacino in 1997's Donnie Brasco. He also took time to write, direct and star in The Brave that year.
In 1998, Depp starred as the alter ego of buddy Hunter S. Thompson in Fear and Loathing in Las Vegas, co-starring Benicio Del Toro, and tried his hand at sci-fi in 1999's The Astronaut's Wife, along with gorgeous Charlize Theron He re-teamed with Tim Burton to star in the magnificently gothic adaptation of the Halloween legend, 1999's Sleepy Hollow, in a brilliant portrayal of constable Ichabod Crane.


Depp began the year with roles in The Man Who Cried (co-starring good friend Christina Ricci, Before Night Falls, and the small film that could, Chocolat, as a gypsy who falls for Juliette Binoche.

While Depp has had his share of beautiful co-stars, he also had a wide variety of leading ladies in his own life, such as ex-fianc?es Sherilyn Fenn, Jennifer Greyand Winona Ryder, with whom he was engaged for three years. The tattoo in honor of his Edward Scissorhands co-star once read Winona Forever; it has since been laser-altered to read Wino Forever. Besides Winona, Depp's most famous ex-fiance is Kate Moss Depp and the waifish model were engaged from 1995 to 1997, and had an on again, off again relationship.

Depp presently shares a house in France with Vanessa Paradis a French actress and singer, and the mother of their daughter, Lily-Rose Melody, born in 1999. The only reason Depp is ever away from home is in order to fulfill his film contracts; he loves his daughter so much that he doesn't even keep a picture of her in his wallet, for fear of it crinkling.

Despite Depp's critical acclaim as an actor, he has surprisingly never won an Oscar, although he has been honored with the 1990 ShoWest Male Star of Tomorrow award, the 1996 London Critics Circle Actor of the Year award for Ed Wood and the 1998 Honorary Cesar.

And even with Depp's acclaim as one of his generation's best actors, his name has had its share of tabloid smears, especially after River Phoenix died of a drug overdose in 1993 outside the Viper Room, the club Depp owns. Depp also became tabloid fodder when he was arrested for trashing the presidential suite of a Manhattan hotel in 1994 -- he finally paid over $2,000 worth of damages.
Depp and Paradis grow grapes and have wine making facilities in their vineyard in Plan-de-la-Tour north of Saint-Tropez.

Film roles
Johnny Depp is the most high paying actor, producer is willing to spend a lot of
money to
Johnny Depp. Johnny earns $349 million through June 2009 – June 2010 .Critics have described Depp's roles as characters who are "iconic loners." Depp has noted this period of his career was full of "studio defined failures" and films that were "box office poison," but he thought the studios never understood the films and did not do a good job of marketing. Depp has chosen roles which he found interesting, rather than those he thought would succeed at the box office.
The 2003 Walt Disney Pictures film Pirates of the Caribbean: The Curse of the Black Pearl was a major success, in which Depp's his lead performance as the suave pirate Captain Jack Sparrow was highly praised. Studio bosses were more ambivalent at first,but the character became popular with the movie-going public.According to a survey taken by Fandango, Depp was a major draw for audiences.
The film's director, Gore Verbinski, has said that Depp's character closely resembles the actor's personality, but Depp said he modelled the character after Rolling Stones guitarist Keith Richards. Depp was nominated for an Academy Award for Best Actor for the role.
He is known for a fondness of French wines: among Depp's favorites are the Bordeaux wines Château Calon-Ségur, Château Cheval Blanc and Château Pétrus, and the Burgundy wine Domaine de la Romanée-Conti. Interviewed in Madame Figaro, he stated, "With those wines, you reach nirvana".
In 2004, he was nominated for an Academy Award for Best Actor, for playing Scottish author J. M. Barrie in the film Finding Neverland. Depp next starred as Willy Wonka in the 2005 film Charlie and the Chocolate Factory, a major success at the box office and earning him a nomination for the Golden Globe Award for Best Actor in a Musical or Comedy.
Depp returned to the role of Jack Sparrow for the sequel Pirates of the Caribbean: Dead Man's Chest, which opened on July 7, 2006 and grossed $135.5 million in the first three days of its U.S. release, breaking a box office record of the highest weekend tally.
The next sequel to Pirates of the Caribbean, At World's End, was released May 24, 2007. Depp has said that Sparrow is "definitely a big part of me", and he wants to play the role in further sequels.Depp voiced Sparrow in the video game,
Pirates of the Caribbean: The Legend of Jack Sparrow.Johnny Depp's swashbuckling sword talents as developed for the character of Jack Sparrow, were highlighted in the documentary film Reclaiming the Blade. Within the film, Swordmaster Bob Anderson shared his experiences working with Depp on the choreography for The Curse of the Black Pearl.
Anderson who also trained Errol Flynn, another famous Hollywood pirate, described in the film Depp's ability as an actor to pick up the sword to be, "about as good as you can get."
In 2007, Depp accepted Warner Bros.' proposal to make a film of the gothic soap opera Dark Shadows, a series that aired on ABC from 1966 to 1971. He had been a fan as a child. Depp and Graham King will produce the movie with David Kennedy, who ran Dan Curtis Productions inc. until Curtis died in 2006. Depp will also appear in a film version of writer Hunter S. Thompson's book, The Rum Diary,portraying the main character, Paul Kemp.
Depp played the former Heath Ledger character in the 2009 film, The Imaginarium of Doctor Parnassus along with Jude Law and Colin Farrell. All three actors gave their salaries from the film to Ledger's daughter, Matilda.[21] He portrayed the Mad Hatter in Burton's Alice in Wonderland, and will play Tonto in a future Lone Ranger film.Disney Studios announced a fourth installment of the Pirates series is in development.

Tattoos
Depp has 13 tattoos, many of them signifying important persons or events in his life. They include a Native American in profile and a ribbon reading "Wino Forever" (originally "Winona Forever", altered after his breakup with Winona Ryder) on his right biceps, "Lily-Rose" (his daughter's name) over his heart, "Betty Sue" (his mother's name) on his left biceps, and a sparrow flying over water with the word "Jack" (his son's name; the sparrow is flying towards him rather than away from him as it is in Pirates of the Caribbean) on his right forearm.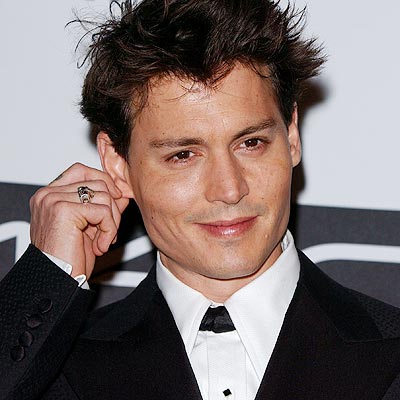 "
There are four questions of value in life… What is sacred? Of what is the spirit made? What is worth living for, and what is worth dying for? The answer to each is the same. Only love.
"
"
When I see someone who just follows their dream and succeeds, and just does basically what they want to do and doesn't have to answer to anyone, obviously not harming anyone, that's great.
"
"
My Body is a journal in a way. It's like what sailors used to do, where every tattoo meant something, a specific time in your life when you make a mark on yourself, whether you do it yourself with a knife or with a professional tattoo artist
"
From Hell

Frederick Abberline

Nominated—Saturn Award for Best Actor

Man Who Cried, TheThe Man Who Cried

Blow

George Jung




Once Upon a Time in Mexico

Sheldon Sands

Nominated—Satellite Award for Best Supporting Actor – Motion Picture

Pirates of the Caribbean: The Curse of the Black Pearl

Captain Jack Sparrow

Empire Award for Best Actor

Irish Film Award for Best International Actor

Screen Actors Guild Award for Outstanding Performance by a Male Actor in a Leading Role

Nominated—Academy Award for Best Actor

Nominated—BAFTA Award for Best Actor in a Leading Role

Nominated—Broadcast Film Critics Association Award for Best Actor

Nominated—Chicago Film Critics Association Award for Best Actor

Nominated—Golden Globe Award for Best Actor – Motion Picture Musical or Comedy

Nominated—Online Film Critics Society Award for Best Actor

Nominated—Phoenix Film Critics Society Award for Best Actor

Nominated—Satellite Award for Best Actor – Motion Picture Musical or Comedy

Nominated—Saturn Award for Best Actor

Nominated—Washington D.C. Area Film Critics Association Award for Best Actor

Happily Ever After

Finding Neverland

J. M. Barrie

Nominated—Academy Award for Best Actor

Nominated—BAFTA Award for Best Actor in a Leading Role

Nominated—Broadcast Film Critics Association Award for Best Actor

Nominated—Empire Award for Best Actor

Nominated—Golden Globe Award for Best Actor – Motion Picture Drama

Nominated—London Film Critics Circle Award for Best Actor

Nominated—Satellite Award for Best Actor – Motion Picture Drama

Nominated—Saturn Award for Best Actor

Nominated—Screen Actors Guild Award for Outstanding Performance by a Male Actor in a Leading Role

Nominated—Screen Actors Guild Award for Outstanding Performance by a Cast in a Motion Picture

Secret Window




Libertine, TheThe Libertine

John Wilmot, 2nd Earl of Rochester

Nominated—British Independent Film Award for Best Actor

Charlie and the Chocolate Factory

Willy Wonka

Empire Award for Best Actor

Nominated—Golden Globe Award for Best Actor – Motion Picture Musical or Comedy

Nominated—Irish Film Award for Best International Actor

Nominated—London Film Critics Circle Award for Best Actor

Corpse Bride

Victor Van Dort

voice role

Pirates of the Caribbean: Dead Man's Chest

Empire Award for Best Actor

Nominated—Golden Globe Award for Best Actor – Motion Picture Musical or Comedy

Nominated—National Movie Award for Performance – Male

Pirates of the Caribbean: At World's End




Sweeney Todd: The Demon Barber of Fleet Street

Sweeney Todd/Benjamin Barker

Golden Globe Award for Best Actor – Motion Picture Musical or Comedy

National Movie Award for Performance – Male

Nominated—Academy Award for Best Actor

Nominated—Broadcast Film Critics Association Award for Best Actor

Nominated—Saturn Award for Best Actor

Public Enemies

John Dillinger

Nominated—Satellite Award for Best Actor – Motion Picture Drama

Imaginarium of Doctor Parnassus, TheThe Imaginarium of Doctor Parnassus

Tony (1st transformation)




Alice in Wonderland

Mad Hatter

Nominated—Golden Globe Award for Best Actor – Motion Picture Musical or Comedy

Nominated—MTV Movie Award for Global Superstar

Nominated—National Movie Award for Best Performance

Nominated—Teen Choice Award for Best Fantasy Actor

Tourist, TheThe Tourist

Frank Tupelo/Alexander Pearce

Nominated—Golden Globe Award for Best Actor – Motion Picture Musical or Comedy