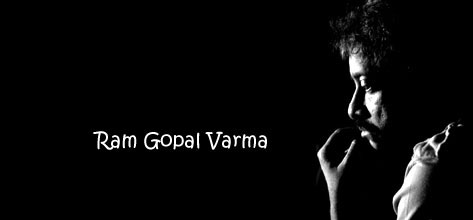 Ram Gopal Varma is know as RGV ,( born 7 April 1962)

RGV is director, screenwriter and producer.

RGV is very good at the thriller, physiological thriller, underworld story director

I thing he is very good in handling camera. His angles of shot in movies is amassing he has unique kind of handling camera and techniques.

Ram Gopal varma Penmetsa family life à

Father- Krishnam Raju Penmetsa (Varma was not a good student in school and used to skip classes regularly, something that strained his relationship with his family, particularly his father.)

Mother- Satyavathi

Education of RGVarma is a civil engineer by profession and graduated from the V.R.Siddhartha Engineering College, Vijayawada.

RGV stepped to movies like this à he would skip classes often and go and watch films instead - 8-10 films a week. He would watch the same film repeatedly "just to watch certain scenes which interested him."[3] According to him, that is how he learned film direction.

RGV got opportunity to direct like thisà

Varma managed to meet Nagarjuna on the sets of a film and narrated a scene to the actor which impressed him so much that Varma's dream of becoming a director came true.

His dad was working in Akkineni Nageswara Rao studio , so as this he got to go inside the studio and meet Nagarjuna In studio and grab the opportunity.

The result of their collaboration was a film on the criminalization of student politics - Siva (1989 film). The film was a blockbuster with Varma demonstrating his technical expertise and story-telling skills. The success of the film in Telugu led to a Hindi remake with similar success.

RGV growthà

Varma's next film was Kshana Kshanam, a Telugu film with Venkatesh & Sridevi which got him noticed by Bollywood critics. The film was also dubbed into Hindi as Hairaan. Then he came up with films such as Raatri and Antham. While Gaayam with Jagapathi Babu & Anaganaga Oka Roju with J.D. Chakravarthy were successful, Govinda Govinda with Nagarjuna &Sridevi proved to be moderate at the box-office.

During this period, Varma also produced films such as Money and Money Money, and wrote the script for Mani Ratnam's Tamil film [Thiruda Thiruda]srivari sobanam].

Trekking towards bollywoodà

The RGV's luck worked from his first movie which was remake in hindi as drohi. He made his life bench mark in the movie with putting all great and big actor like amir khan and Jackie shroff amd urmila in rangeela .

Even this movie opend new life to music director AR rahaman (delip). Rangeela grabed all prestigious award like Filmfare Awards for Rahman and Shroff.

In 1998, Varma was an executive producer for Dil Se, directed by Mani Ratnam and starring Shahrukh Khan, Manisha Koirala and Preity Zinta. The film won the NETPAC Award for Special Mention at the Berlin Film Festival, as well as two National Film Awards and six Filmfare Awards.

In 1998 came his masterpiece, the critically acclaimed Satya,

Varma's directorial and technical brilliance, contributed to a film that was a landmark. The film won six Filmfare Awards, including the Critics Award for Best Film.

In 2002 came his greatest commercial as well as critical success, Company.

The film won seven Filmfare Awards and earned him a Filmfare Best Director Award nomination.Mohanlal debuted in bollywood in this film.
Experimental films

he directed Kaun, a suspense thriller set entirely in one house and featuring only three actors, and Mast, a subversion of the HINDI CINEMA masala genre.

a film about an inspector in the Mumbai Encounter Squad famous for having killed 56 people in police encounters.

His latest film, Phoonk (2008), was of the horror film genre and met with mixed reviews, with more of them leaning to the negative side.

the film was a major hit in comparison to its minuscule budget. Varma has now finished working on Agyaat which released on 7 August 2009 .
flops in RGV carrier.
| | | | |
| --- | --- | --- | --- |
| year | name | language | status |
| 2007 | Nishabd | Hindi | Flop |
| 2007 | Ram Gopal Varma Ki Aag | Hindi | Utter Flop |
| 2007 | Darling | Hindi | FLOP |
| 2006 | Shiva | Hindi | Super Flop |
| 1999 | Prema Katha | Telugu | Flop |
| 1993 | Govinda Govinda | Telugu | Flop |
| 1992 | Antham | Telugu | Flop |
| 1992 | Drohi (1992 film) | Hindi | Flop |